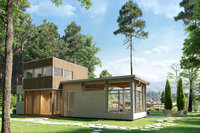 With Alti, Things Are Looking Up!
Discover the Newest Home in the Bonneville Micro-LoftTM Series
Bonneville Homes is proud to present Alti, the latest addition to the popular Micro-LoftTM lineup, at the ExpoHabitation, coming to the Olympic Stadium in Montreal, February 7th to 10th, 2019.
Learn more...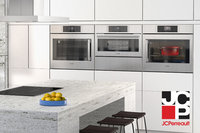 JC PERREAULT
6,000 square feet of furniture, household appliances and BBQs
JC Perreault is proud to participate, for the 6th year, in the Montreal HomeExpo show, with a booth of over 6,000 square feet. Its Espace Ambiances is a unique creation where you will be able to discover the latest trends in household appliances, furniture and grills.
Learn more...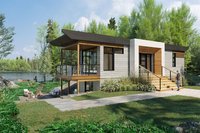 MICRO-HOUSING SIGNED BY CONFORT DESIGN
Treat yourself with ingenuity and peace of mind with the Micro-Housing concept of Comfort Design !
In recent years, the new housing trend has leaned towards the reduced size of houses. Whether it's a condo or a country house, more buyers prefer purchasing a smaller home with less maintenance and lower mortgage payments.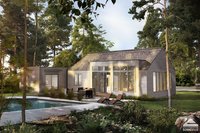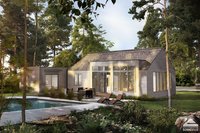 WELCOME HOME!
XÉNIA : Where Hospitality Meets Comfort
Bonneville Homes is proud to present Xénia, one of their most recent creations. With our everyday lives as hectic as they are, it is important to have a place where you can "chill" and recharge your batteries. Where you can enjoy special moments and make enduring memories with family and friends.
Learn more...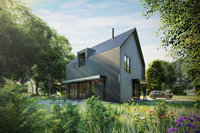 BÂTIMENT PRÉ-FAB
Eco-Habitat S1600: a contemporary and ecological home!
True concentration of talents, it is the final product of an unprecedented collaboration between PARA-SOL, a Montreal architectural firm, the manufacturer of prefabricated structures in kits, Bâtiment Pré-Fab inc. and Ecohabitation, the reference in sustainable housing. Spacious, bright and user-friendly, its architecture has been designed according to the use of low environmental footprint materials and energy-efficient principles that limit operating costs.




In collaboration with: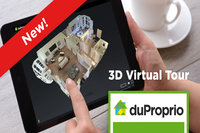 DUPROPRIO
3D virtual tour, just as if you were actually there!

Forget about traditional visits! DuProprio now offers potential buyers the possibility to take a 3D virtual tour of the properties they are interested in, just as if they were actually there! Thanks to this high realism service, visitors can explore the space 24/7 without having to travel there.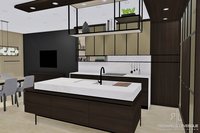 RICHARD & LEVESQUE
Come and discover the Richard & Levesque kitchen created by the renowned Richard & Levesque!
Inspired by their latest trip to Milan at the Eurocucina Fair, let yourself be charmed by this space with dark and warm colors that will undoubtedly surprise you with its refined mix of materials.
Learn more...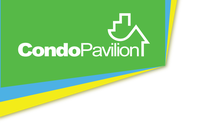 CONDO PAVILION
Presented by the Regroupement des gestionnaires et copropriétaires du Québec (RGCQ)

The RGCQ promotes sound management and good governance in condominiums. It ensures that both the interests of co-owners and managers are respected, but also that building managers deliver services ethically.
Learn more...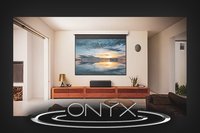 Home Theater
OnyxAudio presents its home theater attraction at the Montreal HomeExpo! The latest trends in home entertainment technology and 4K projection on giant screen! In collaboration with the JC Perreault, Sony, and Monitor Audio, come meet a team of enthusiasts who are ready to answer any questions you may have!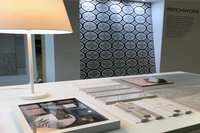 INFINITE POSSIBILITIES
Centura presents the latest trends in the world of ceramic tiles and the latest systems to facilitate their installation.
Tiles of all shapes, audacious colors and patterns, oversized or ultra-thin formats, truer than life finishes, the world of ceramics is bursting! Centura's designers will help you discover them and the expertise of their technical representatives will guide you in the realization of your projects. Meet them at booth 499!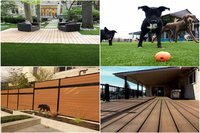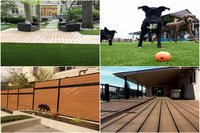 SGC Synthetic Grass & Composite
Our mission: Reduce the maintenance of our customers to the minimum!
We are proud to be the official landscaping partner of the Montreal HomeExpo show. With a full range of maintenance-free materials under one roof, we allow our guests to enjoy time with friends and family rather than the maintenance of their backyard. Come discover our new products, the new 2019 trends as well as our outdoor landscaping around the model homes presented at the show. Come and visit us at booth 725!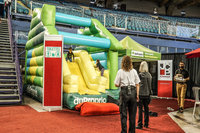 DUPROPRIO FAMILY ZONE
The kids can come have fun at the free DuProprio playground! The nearby lounge area lets parents take a break while keeping an eye on the kids!