Dates & Hours
Thursday, February 6 12:00 pm to 9:00 pm
Friday, February 7 10:00 am to 9:00 pm
Saturday, February 9 10:00 am to 9:00 pm
Sunday, February 9 10:00 am to 5:00 pm

Please note that the ticket counter closes 1 hour before the end of the show.
Admission
Adults
Adults - online
Seniors (60+) and students
Children (from 6 to 12 years old)
Children (5 years old and under)

$16
$14
$13
$6.50
Free

Show Location
Olympic Stadium
4141 Pierre-de Coubertin Ave
Montreal, QC
H1V 3N7
www.parcolympique.qc.ca
(514) 252-4141


DIRECTIONS
By Subway
The Stadium is accessible via an indoor corridor from the Pie-IX subway station.
For more information, visit www.parcolympique.gc.ca
PARKING
We invite all drivers to park at the P1, P2 and P4 parking lots. The P8 parking lot located at the corner of Bennett and Pierre-de-Coubertin is reserved for trucks only. We thank you for your collaboration! There are around 4,000 indoor parking spaces and 270 outdoor spaces available during the event. A fee of $20 (tax included) per day is charged for the indoor spaces. P1 and P2 are accessible from rue Pierre-de-Coubertin.
ACCOMMODATION PARTNERS
Hotel Universel Montreal
5000, Rue Sherbrooke Est
Montreal (Quebec) H1V 1A1
T: (514) 253-3365 ou (800) 567-0223 F:(514) 253-9958
*steps away from the Olympic Park and Stadium.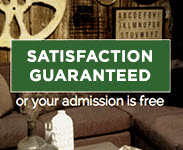 We're so sure you'll love your day out at the 2018 Montreal HomeExpo that we'll refund your admission if you're not satisfied!

Any attendee not completely satisfied must visit the on-site Show Office while at the event to receive a refund request survey. The value refunded will be per your receipt and mailed to you after the show (within 45 days).