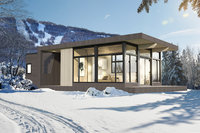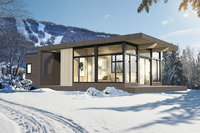 YOUR KABÏNN IN THE WOODS IS WAITING FOR YOU!

Discover the Newest Home in the Bonneville Micro-LoftTM Series!
Bonneville Homes is proud to present Kabïnn, the latest addition to the popular Micro-LoftTM lineup. Dreaming of a quiet, out-of-the-way oasis that refuses to compromise on design and functionality? Escape with Kabïnn! This newest addition offers 930 square feet of pared-down, minimalist sophistication, with several unique architectural touches that set a distinctive tone. The inviting common area, the largest in the Micro-LoftTM series, is the perfect spot for couples, families and guests to kick back and relax. It boasts close to 60 feet of windows on three sides, which is all but unheard of for such a compact home.

In addition to the spacious open-plan kitchen, dining and living areas, Kabïnn has two bedrooms and a full bathroom, complete with laundry facilities. Nature enthusiasts are sure to be won over by the convenience and practicality of the optional outdoor storage unit next to the front door. Needless to say, every last detail of Kabïnn has been thought out to deliver optimal quality and comfort.

Come visit the Kabïnn at booth 712 !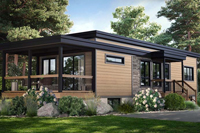 MICRO-HOUSING SIGNED BY CONFORT DESIGN
Treat yourself with ingenuity and peace of mind with the Micro-Housing concept of Confort Design!
Our charming 16x46F micro-housing has bright and welcoming living space. Its area of 721 sq. ft. is composed of a large master bedroom able to fit a King size mattress, an open kitchen with pantry, dining room and living room, a large bathroom and even a corner for the washer and dryer. In addition, this tiny modular house gets larger in the summer thanks to its superb 145 sq. ft. terrace.

Maisons Confort Design is a manufacturer of high-end, manufactured homes and micro-homes based in Mascouche. The manufacture of these houses is done in a high-tech environment protected from the weather and ensures a quality much higher than that built on a construction site. Confort Design is able to respond to market demands and help customers achieve a personalized home that meets both their lifestyle and their budget needs. The acquisition of a micro house ensures you with unparalleled peace of mind!

Come visit the 16x46F micro-housing at booth 718!