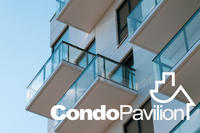 CONDO PAVILION
Presented by the Regroupement des gestionnaires et copropriétaires du Québec (RGCQ)
Condominiums are now an integral part of every urban skyline. The number of condominium buildings and the interest of consumers for this type of housing are steadily increasing. Whether you are interested in acquiring a condo or you already own one, you will find your share of information and experts in condo living and condo management at the Condo Pavilion.

Free conferences
Offered by specialists, enjoy conferences covering hot topics such as: charging stations for electric vehicles, condo fees, water damage prevention and many more!
Click here to view the conference show program!

Free legal consultations
Enjoy free legal consultations offered by our partner Condolegal.com with lawyers and notaries renowned in co-ownership law. Sign up for your free consultation on the CondoLegal website.

About the RGCQ
The RGCQ (www.rgcq.org) promotes sound management and good governance in condominiums. It ensures that both the interests of co-owners and managers are respected, but also that building managers deliver services ethically. Come meet us at the Condo Pavilion, it will be our pleasure to answer all of your questions!